We're Here to Help
SHIPPING INFO
Heath Riles BBQ expects for all orders placed to ship out within 2 days and have an estimated delivery time of 4-6 days once shipped. Please check your tracking info for expected arrival date.
We ship UPS, FedEx and USPS
We'll email you the tracking number the day your package ships
FREE SHIPPING applies to orders of $125 or more and for orders being sent within the continental United States (does not include Alaska, Hawaii, or International Shipping) *Exclusions Apply
For all 2-Day Shipping Orders:
Orders placed before 2pm CST on Monday will arrive on Wednesday. Below are more transit times.
Tuesday--->Thursday
Wednesday--->Friday
Thursday---->Monday
Friday----->Tuesday
Heath Riles BBQ is not responsible for carrier delays when expedited shipping is requested.
REFUNDS + RETURNS
As a small business selling perishable products, we cannot accept returns of opened products.
We are not responsible for damage or loss of packages due to unavailable recipient, incorrect address information, or theft.
We are not able to change the address or cancel an order once an order has been placed.
We need photos of damaged items and shipping slips to process a replacement if product arrives damaged.
COUPON POLICY
Discount codes: excludes gallons, other brands, build your own bundles, merchandise, & gift cards.
You cannot add coupon discounts post-purchase. To take full advantage of the discounts provided by Heath Riles BBQ, please ensure you add the coupon during the check-out process.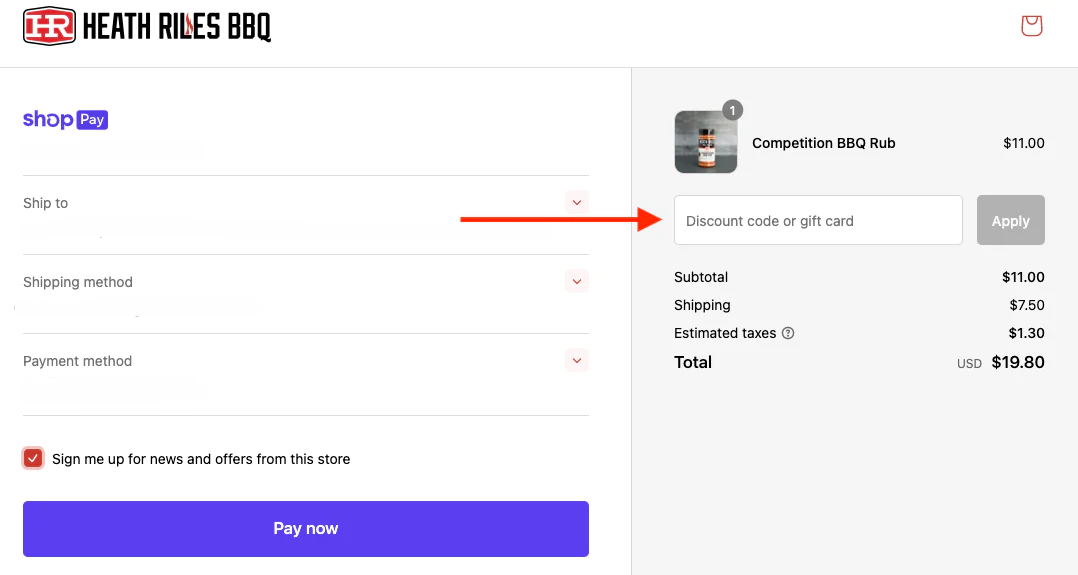 WHOLESALE PRODUCTS
If you would like more information on becoming a wholesale partner with Heath Riles BBQ please visit our wholesale page here.
FOR ALL OTHER QUESTIONS
If you have any questions about placing an order or any of the products, please contact us at info@heathrilesbbq.com and we will get back to you as soon as possible.